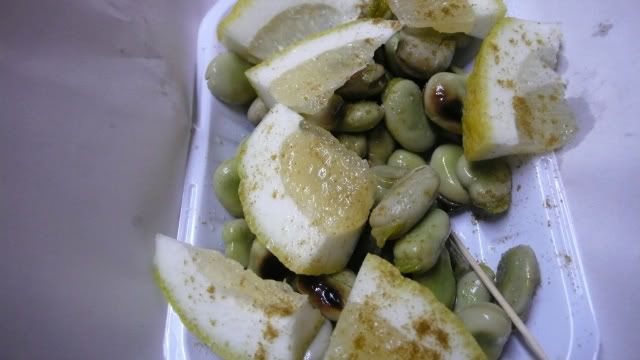 I am wild for this elegant protein packed bean, I knew the Italians felt the same way, but what I just discovered is that Lebanon is wild for them as well. I would love to claim to be Fava's number one fan, but I've got a long line of predecessors.  Fava beans were one of the first cultivated plants, and the only bean the Europeans ate until they reached the Americas.  Fava, or Foul in Arabic, is used every way possible east of Greece. I just returned from an awe-inspiring couple of months, trekking around the Middle East.  A common thread to my trip was the constant use of Fava beans, fresh and dried.  I had always thought of the garbanzo bean as the Middle East's most popular legume, but this myth was quickly dispelled and I fell into a deeper trance with Foul.  I left Los Angeles with an obsessive craving to taste all the regional specific, Middle Eastern foods I could.  The goal was to return with a knack for eastern flavor and technique, mix this into my repertoire, and apply to home's local fare.  The perfect example of imparting new grace on old favorites is Fava Bean Mash-Up. It's inspired by a southern Lebanese street food favorite of mine (whole Foul beans, sprinkled with ground cumin and served with big wedges of lemon), but I've taken it home off the streets, and share it with you all mashed up.This Fava mash-up is easy to make, so good for you, and should be one of your springtime kitchen tools.  Favas can be very social.  Removing them from their furry pods is fun with friends around a table on Sunday, or can be very Zen like on your own.  You can put it on toast points, have it with a poached egg, next to Burrata, alongside artichokes and mushrooms, with white fish like halibut, and great instead of a potato with lamb.  One of my favorite ways to share this treat is by spooning it into beautiful glasses, garnishing with mint, feta, pine nuts, and sticking a spoon in it.  This is an easy, deliciously wholesome, way to celebrate the spring and taste a little bit of Lebanon.

Fava Bean Mash-Up. 
Serves 2 for a meal, and 6 if used as an appetizer.
Ingredients:
2 Lbs, fresh, organic Fava Beans.  (Much better fresh, but you can find organic frozen Favas, you will only need 3/4 Lbs if shelled)
½ c, olive oil
1 large, organic Shallot- diced
1 1/2, Arbol chiles (or any dried, whole chili you want to use)- broken by hand
2 tbl, whole cumin seeds, ground
¼ c, water
1 large, organic lemon, cut in half
½ c, mint- chopped
Salt and pepper, to taste
Garnish options: crumbled feta, toasted pine nuts, and chopped mint. 
Directions:
1.     First you must remove beans from their pods.  Tear open the pod at the top and then continue to open along its spine.  Keep the shelled beans in a separate bowl.  While you do this get some water in a pot to boil.
2.     Fava's need their outer membrane removed as well.   Get a bowl full off ice water ready.   To get the membranes off, plunge them into the boiling water for one minute, and then put into ice water immediately to stop the cooking. 
3.     As you remove the membranes of the beans you may begin the cooking process.
4.     Slowly heat the olive oil in the bottom of a pot, on low heat, add the chiles (as they will infuse the oil as you chop), all the while chop and mince the shallot and garlic.
5.     Add the shallot to the pot with a couple pinches of salt and let the shallot become translucent on medium heat.
6.     Add garlic, cumin, and a couple grinds of black pepper to the pot.  Give this mixture some nice stirs with a wooden spoon until it becomes very aromatic.  We are not looking for any real color on the garlic.
7.     Add your cleaned Fava beans, and coat with the fragrant oil, occasionally stirring until the beans are really soft (about 10 minutes).  Keep your water close by, and if beans begin to feel dry or stick t the bottom of the pot add splashes of water.
8.     Using your wooden spoon or a potato masher, mash the beans until they form a chunky paste.  Add more water or more olive oil until you get the consistency and spread ability you desire.
9.     Season the pot with salt and pepper to your liking, remove from heat, and while still warm add your chopped mint and lemon juice.
10.   Your mash is done.  Here's where you decide what to do with it and what to garnish with, or in my case, eat half of it with your wooden spoon.